Israel's Deputy Defence Minister Vilnai recently threatened a 'Holocaust' on the people of Gaza.

Holocaust survivor Hedy Epstein will be in the UK from the USA from Monday October 6 to Monday October 20 inclusive for a speaking tour on the theme of Israeli oppression of the Palestinians and the need for active solidarity.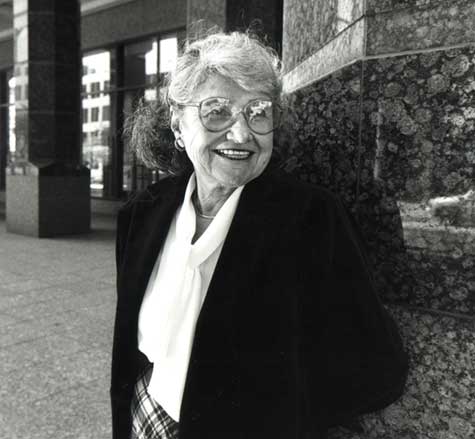 She has visited Palestine many times:
"Israel would not be able to carry out its crimes against humanity without the United States, the world, permitting it to do so and the mass media, which, with few exceptions, dehumanises Palestinians and instils fear, ignorance and loathing of them and their culture."


Never Again! End Israel's War Crimes

Mon 6 October EDINBURGH 7.30pm
St Georges West, Shandwick Place Edinburgh Scottish Palestine Solidarity Campaign & Scottish Jews for a Just Peace
Tues 7 October GLASGOW 7.30pm
University of Glasgow, Boyd Orr Building, University Avenue
Glasgow Scottish Palestine Solidarity Campaign & Scottish Jews for a Just Peace
Wed 8 October EDINBURGH 1.30pm
Edinburgh University, Lecture Theatre 1, Appleton Tower
Edinburgh University Palestine Solidarity Society & Scottish PSC
Wed 8 October EDINBURGH 5.30pm
Committee Rooms, Scottish Parliament
Scottish Parliament Cross Party Group on Palestine
Thurs 9 October BELFAST 7.30pm
Ireland Palestine Solidarity Campaign
Theatre An Culturlann, Falls Road
Frid 10 October DUBLIN 6.30pm
Connolly Room, Liberty Hall, Eden Quay
Ireland Palestine Solidarity Campaign & Trade Union Friends of Palestine
Sat 11 October LANCASTER 8.00pm
Lancaster Cathedral
Lancaster Palestine Solidarity Campaign
Sun 12 October SHEFFIELD 6.30pm
The Library Theatre, Surrey Street
Sheffield Palestine Solidarity Campaign & Yorkshire Palestine Cultural Exchange
Tues 14 October SHREWSBURY 7.30pm
Darwin Community Centre, Fellmongers' Hall, Frankwell
"Shrewsbury Palestine Talks", West Midlands Friends of Sabeel UK, West Midlands PSC
Thurs 16 October BRISTOL
Details to be confirmed
Frid 17 October EXETER 7.30pm
The Methodist Mint Church, Fore Street
Exeter Palestine Solidarity Campaign & Friends of Palestine at Exeter University
Sat 18 October DORCHESTER 7pm
Dorchester Baptist Centre, Top o' Town
Dorset Palestinian Israeli Peace Group
Sun 19 October LIVERPOOL 7.30pm
Liverpool Quaker Meeting House, 22 School Lane
Liverpool Palestine Solidarity Campaign, Merseyside Jews For Peace & Justice & Women to Women for Peace
Mon 20 October LONDON 7.30pm
Lambeth Town Hall
Palestine Solidarity Campaign (UK), Lambeth and Wandsworth PSC
Download Scottish PSC leaflets & posters - leaflets and posters also available from local groups hosting Hedy.

Hedy Epstein

"I was never in a camp, because of my parent's sacrifice of getting me out, so I never had the worst kind of experience that survivors have had - but I know what it's like to be discriminated against. I knew Hitler's murderous intent between 1933 and 1939, during which time my father was sent to the concentration camp called Dachau in 1938. He came back after four weeks, but he was no longer the same father that I knew, because he was an old, broken man when he came back."

"And because I know what it's like, I feel I have a duty and a responsibility to fight the injustices that happen to other people. I can't do everything, and there are problems all over the world, but I decided that the Israeli government's treatment of the Palestinian people is an issue I am going to protest against, and I will try to do whatever I can."
An Interview with Hedy Epstein, "I Was Not Prepared for the Horrors I Saw" By SILVIA CATTORI
"Hedy came to the United States in May 1948. Her only living relatives were an uncle and an aunt who had emigrated to the US in early 1938. Once here, she worked in a variety of jobs. Although she did not realize it at the time, many of those jobs were part of her quest to find her parents and her family.

Soon, Hedy became active professionally and personally in the causes of civil and human rights and social justice. Some of her causes have included fair housing, abortion rights, and antiwar activities. As a peace delegate, Hedy journeyed to Guatemala, Nicaragua, and Cambodia in 1989. Hedy visited the Israeli Occupied West Bank five times since 2003, to witness the facts on the ground. She participated in several non-violent demonstrations, together with Israelis, Palestinians & other internationals, in opposition to Israel's occupation of Palestinian land, the 25-foot high cement wall, and the demolition of Palestinian homes and olive orchards.

Hedy began speaking to audiences in 1970. Her topics include her Nazi Holocaust experiences, her work at the Nuremberg Medical Trial, and her five trips to Palestine since 2003. Equally conversant in English and German, she has spoken in the US, Germany, and Austria to audiences of schoolchildren, college students, and adults. In addition, she has appeared on several radio and television shows as a guest. She is a member of the Speakers Bureau of the St. Louis Holocaust Museum and Learning Center."
Jewish Telegraph smears Holocaust survivor who speaks up for Palestine
An article in this week's Jewish Telegraph, 'Pro-Palestinian Hedy's visit sparks fury', attacks Hedy Epstein for speaking up for Palestinian rights. (Details of the tour
here
) Its aim is to discredit, demean and lie.

The article quotes Lord Janner, Chair of the Holocaust Education Trust, who opposes any advocacy of Palestinian rights on straightforward grounds of support for Israel, right or wrong. Janner's notion of holocaust 'education' is a totalitarian one: it must serve the interests of the State of Israel and anyone who speaks contrary to those interests, as he interprets them, must be excluded.


One concentration camp survivor, Ben Helfgott, is 'very annoyed' at Hedy's talk on the grounds that Hedy 'is not even a survivor,' and that she doesn't have a 'licence to say whatever she wants'. (We don't need licenses in Britain to speak out against crimes. Not yet.)

Guido Alis from Liverpool says Hedy's meeting on 'End the injustices in Palestine' is 'scandalous' and suggests that Hedy is a Holocaust denier! This madness reminds us that, a couple of years ago, when the Scottish PSC were involved in organising Holocaust commemoration events with Jewish, Gypsy, Gay and other speakers, the Zionist Engage website accused us of 'undermining Holocaust commemoration'! In the deranged Zionist mindset, day is night, acknowledgement is denial, and Israeli crimes are moral.

Nazi camp survivor Norbert Barrett, gratuitously denounces any comparison of 'the Palestinian cause with the Holocaust' (which neither Hedy nor the Scottish PSC make - see below*) on the grounds that 'The Palestinians have brought their plight upon themselves.' Mr. Barrett is an extreme case of the dictum that suffering does not always sensitise the victims to the sufferings of others. The extremity of Mr. Barrett's suffering in a Nazi camp stands alongside his total callousness towards the Palestinian victims of Israel's ethnic cleansing.

Hedy Epstein

is a survivor of the Nazi Holocaust - her parents managed to get her out before they themselves perished in the death camps

is a champion of Palestinian human rights who has seen them violated by Israeli during her several visits to the West Bank

worked as a research analyst at the Nuremberg trials

is a member of the Speakers Bureau of St Louis' Holocaust Museum.

stands in a long tradition of putting human solidarity above national or tribal loyalty: John Brown the abolitionist; white people who fought apartheid in South Africa; those who actively oppose the current military aggression of the US, Britain and Israel.
*footnote 1:
About 30 years ago I took a tram from Munich city centre to Dachau, got off at the crossroads there and spent hours in the nearby Nazi concentration camp. I was born just after the War's mass killings had ended, and a year before Zionist gangs ethnically cleansed most of Palestine to found the State of Israel. As a child, the Nazi death camps hovered in my consciousness as a chilling example of depraved humans in power. It took me longer, and a little effort, to learn of the mass killings, sometimes Holocausts, of native people involved in British and other European colonial projects. The ruthless application of terror and starvation, from Ireland to Bengal and Kenya, killed many millions of souls.

*footnote 2:
An Israeli complained bitterly at the SPSC stall on Princes St a few weeks ago that 'What Britain did was just as bad'. It's true. He was using British colonial cruelty to justify the Israeli version. Israeli cruelty is a colonial cruelty, of the same type as the British killings needed to conquer, occupy, hold and exploit the resources of Iraq, Afghanistan, Kenya, or Palestine during the colonial era. Or Iraq and Afghanistan today. The Zionists saw themselves from the beginning, after all, in the mould of European colonisers, indifferent as any Spaniard or Englishman to the humanity of natives standing in the way of their 'progress'. Zionists expel Arabs just as Britain emptied Diego Garcia.

(Mick Napier, Chair, Scottish Palestine Solidarity Campaign)